My silliest self emerges on Oscar night. Yes, I've seen every movie but let's face it – it's really the fashion that keeps me coming back for more. Here are my favorite Oscar looks from the past ten years (less 2002 since no looks impressed me).
Who will be the best dressed this year?!

1998
Madonna in then unknown Nicolas Ghesquiere. Pre pre pre Motorcycle bag…

1999
Cate Blanchett makes her red carpet debut – a fashion icon is born. Galliano's butterfly, lace and gauze creation is gorgeous.

2000
Chloe Sevigny wears YSL by Alber Elbaz. Nobody was even thinking about Lanvin at this time. Chloe looks fashion forward and classic at the same time.

2001
At this point, Bjork's controversial swan dress is completely iconic. I love it.

2003
A week after the invasion of Iraq, Oscar fashion went demure. Nicole Kidman took hom the statue in tasteful yet gorgeous Jean Paul Gaultier.

2004
Previously blood toting and goth Angelina Jolie makes a move to chic and gorgeous in Marc Bouwer. Still dripping in sex though.

2005
For her second win, Hillary Swank keeps it more modern than imaginable in Guy Laroche.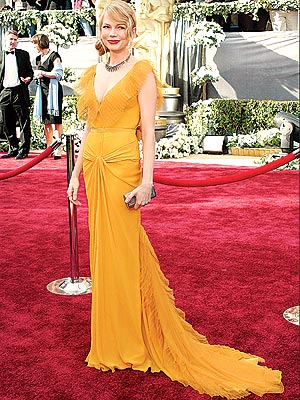 2006
Michelle Williams is above and beyond in saffron Vera Wang and red lips. Enter the side swept updo.

2007
Reese is single, modern and effortlessly chic in Nina Ricci.