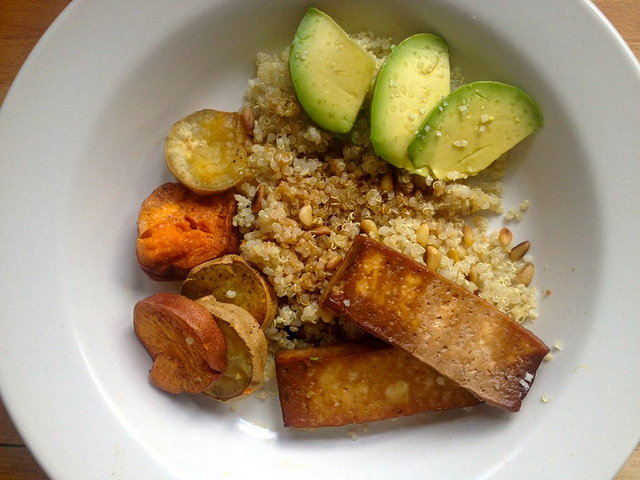 After twelve days eating the most delicious and indulgent food in Paris and Florence, I got a hankering for something clean, specifically avocado and quinoa. The food in Europe is heavenly but I could feel my body reacting to all the rich foods. So for our first meal back home, I put together a big bowl of the nourishing foods I was craving – quinoa, sweet potato, tofu and avocado. Eating it felt so soothing, like big hug welcoming me back to LA.
Post-Vacation Lunch
Serves 4
Ingredients:
1 cup dry quinoa
2 small sweet potatoes, sliced into rounds
1 package of extra firm tofu, sliced lengthwise
soy sauce
mirin
1/2 cup pine nuts
1 avocado, sliced into rounds
Instructions:
Preheat the oven to 400 degrees.
Prepare the quinoa, as per the instruction on the box/bag.
Toss the sweet potato with a healthy splash of olive oil, salt and pepper and arrange them in a single layer in a square baking dish. Arrange the tofu in another square baking dish (also in a single layer if you can) and cover with equal parts soy sauce and mirin. Put both pans in the oven and cook for 30-40 minutes, flipping the sweet potatoes and tofu halfway through.
Saute the pine nuts in a dry pan for about 5-10 minutes until they turn golden. Make sure to keep a close eye so they don't burn. Add the warmed pine nuts to the quinoa and combine.
Arrange your bowl: start with the quinoa, add a few tofu slices, the sweet potato and avocado. Season with more soy sauce and some flakey sea salt on the avocado.